Meet Farmer Ned!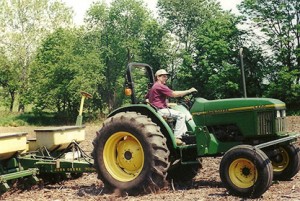 EDWARD J. FOLEY, JR., ESQUIRE
RESUME
TWO PARTICULAR ACRES (1998 – Present)
Crop Production and Agricultural Composting:
Since leaving his full-time law practice to follow his passion, Ned has been actively managing and operating a 100-acre crop farm cultivating corn, soybeans, wheat, oats and hay. He conceived, created, managed, and operated an agricultural composting business integral to the farm operation. In 2003, he received the very first On-Farm Compost Permit issued by the Department of Environmental Protection. He is a frequent lecturer and writer on agricultural composting issues.
LECTURES PRESENTED
February 6, 2004
PASA Farming for the Future Conference: "Dinner is Served: What to do with the Leftovers"
June 21, 2004
BioCycle National Conference: "On-Farm Methods for Composting Manures, Food Residuals and Yard Trimmings"
July 29, 2004
Annual PROP Conference: "Implications of the Waste Minimization Study"
September 16, 2004
Quaker City Farmers Luncheon: "Agricultural Composting in the Suburbs"
ORGANIZATIONS AND COMMITTEES
Ned is a member in good standing of the following organizations:
Pennsylvania Association of Sustainable Agriculture (PASA)
Professional Recyclers of Pennyslvania

Organics Council Steering Committee
Markets Committee
NOTABLE ACHIEVEMENTS
In June 2003 and June 2004, Ned successfully conceived and wrote two competitive Compost Infrastruture Development Grant Proposals totaling almost $120,000.
In July 2004, Ned became a Certified Compost Specialist after successfully completing the multiple-course compost curriculum of PROP's Professional Certification Program
In 2006, Ned participated in the Penn State University & USDA European Compost Tour.
In 2009, Ned was an EPA Technical Assistant.
In 2012, Ned was a member of the U.S. Compost Counsel Model Rule Committee.
Two Particular Acres' innovative farm and compost practices are featured in numerous publications including No-Till Farmer, BioCycle, Lancaster Farming, In Business, Farm Chronicle, New Farm On Line, Food Policy Institute, and Grower.
LEGAL BACKGROUND
Law Practice
1989-2009
Ned practiced law in the Philadelphia region from 1989-2009.
Education
1981-1986
Drexel University
B.S. in History and Political Science
1986-1989
Temple Law School
Juris Doctor (J.D.)
Bar Admissions
Supreme Court of Pennsylvania
Supreme Court of New Jersey
U.S. District Court for Eastern District of Pennsylvania
U.S. Court of Appeals for the Third Circuit
___________________________________________________________